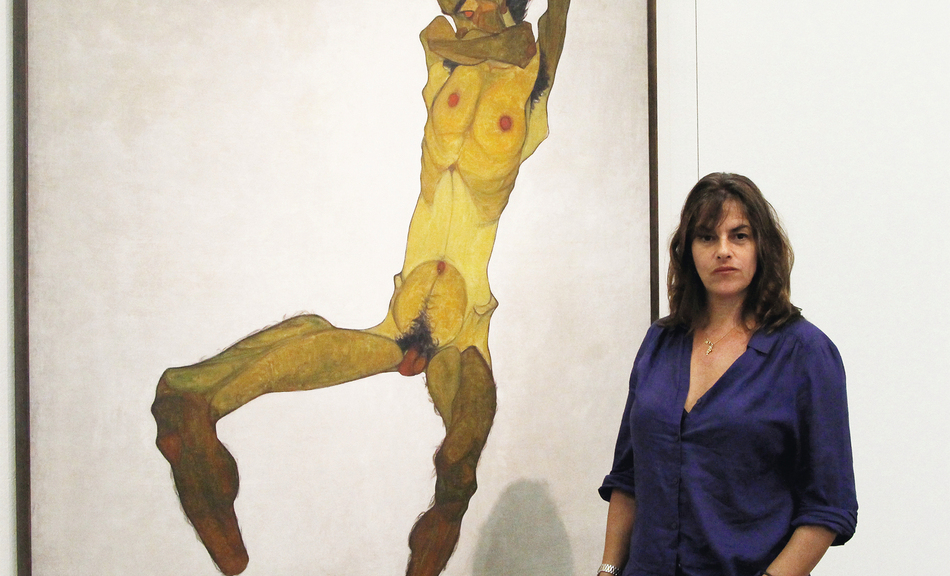 The Leopold Museum will present the first comprehensive exhibition in Vienna featuring more than 80 works by the British artist Tracey Emin (born in 1963), a leading figure of the "Young British Artists". Tracey Emin, a superstar and enfant terrible of contemporary art, will engage in a fascinating artistic dialogue, as she will not only present her own works but will also incorporate a personal selection of drawings by Egon Schiele into the exhibition. This exploration of the Austrian Expressionist's oeuvre allows Tracey Emin to venture into unchartered territory with her art and to draw interesting parallels.
Tracey Emin's pictorial language is direct and trenchant. Her art is an art of exposure and her own biography provides her with an inexhaustible source of inspiration. Her titles form an integral part of her works and speak of unrequited love, suffering, longing and desire.
The exhibition at the Leopold Museum affords insights into the various techniques and materials used by Tracey Emin and features acrylic paintings, gouaches and videos, installations made from neon lamps, wood, metal and textiles as well as photographs and bronze sculptures.
In her candid and sometimes sharp-tongued oeuvre, which is shaped both by tragedy and humor, Tracey Emin lays bare her own hopes, humiliations, failures and successes.
The themes of provocation and sexuality repeatedly surface in Tracey Emin's work, as her oeuvre is firmly rooted in the tradition of feminist discourse.
Through her radical misuse of conventional handicraft techniques – typically regarded as »female work« – Emin's art reflects the feminist doctrine »the personal is political«.
Tracey Emin's interest in the masters of Modernism, and first and foremost in Egon Schiele, has an influence on her paintings, monotypes and drawings that is not to be underestimated. Using Expressionist elements and themes, her works address complex personal issues and concepts of self-portrayal. The juxtaposition of Tracey Emin's works with those of Egon Schiele exposes similarities in the artistic aspirations of both artists and allows for a new visual experience.
The exhibition features recent and entirely new works and installations by the artist which will at times enter into a dialogue with select drawings and written documents by Egon Schiele.
Tracey Emin was born in London in 1963 and studied at the Maidstone College of Art and the Royal College of Art in London. Her works have featured in numerous international exhibitions, including solo and group exhibitions in Holland, Germany, Japan, Australia and the US. In 1999 Tracey Emin's work "My Bed" (1998) was shown in the much-noticed Turner Prize exhibition at the Tate Gallery. In 2007 the artist was elected to be a member of the Royal Academy of Arts. That year she represented Great Britain in the Venice Biennale. In 2009 the Kunstmuseum Bern dedicated a large retrospective exhibition to her oeuvre. In 2011 Tracey Emin was the second woman to be appointed professor of drawing at the Royal Academy of Arts. That same year the artist showed her largest solo exhibition to date at the Hayward Gallery in London. Most recently, Emin presented a selection of her works at the renowned White Cube Gallery in London under the title "The Last Great Adventure is You". The artist lives and works in London.