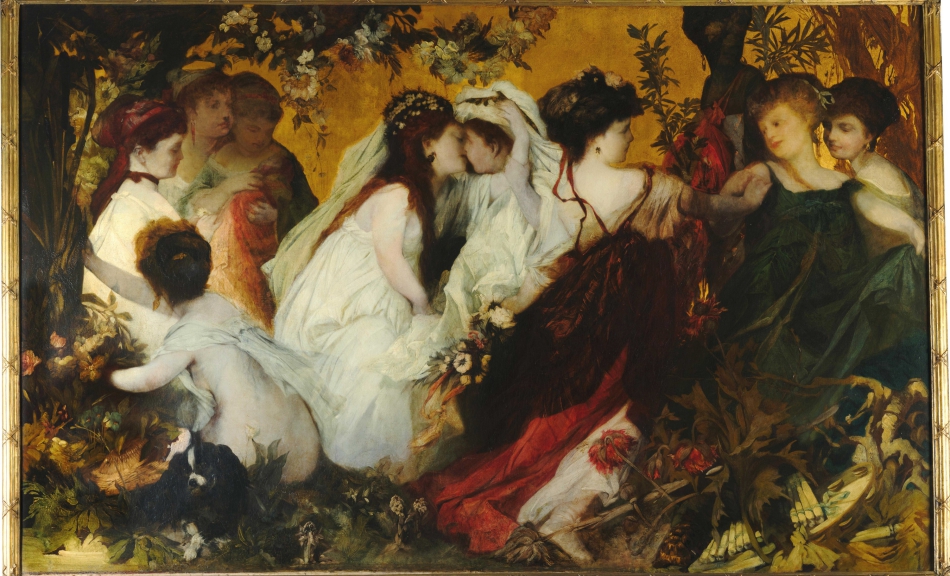 BECOME A SPONSOR, PRESERVE ART!
Following conservation measures carried out by the Leopold Museum's restoration department, Hans Makart's triptych will be made accessible to the public. We are currently looking for active supporters to help us undertake the necessary restoration work which will safeguard the long-term preservation of the painting and ensure that the masterpiece will be enjoyed by generations to come.
THE RESTORATION
Become part of this important restoration venture and help us make the work accessible to countless art enthusiasts. Every donation to the Leopold Museum is deductible as an operating expense or special expense in accordance with §4a EStG [Income Tax Act].
THE OBJECT
HANS MAKART: MODERN CUPIDS
Triptych, 1868
Oil on canvas
Side parts: 147 x 236 cm each
Central part: 292 x 167cm
PLANNED MEASURES
RESEARCH ON THE PAINTING TECHNIQUE
Microscopic examination of the paint layer structure
Radiographic examination
Technological analysis of pigments and binders
Research costs: EUR 4,500,-
CONSERVATION AND RESTORATION OF THE PAINTING
Surface cleaning
Conservation of areas of loose paint layers and of weaknesses in the image carrier
Flattening of deformations and optimization of fabric tension
Reduction of layers of yellowed varnish and removal of old retouching
Infilling of losses and renewal of varnish
Restoration of the ornate frame and stabilization of the framing
Conservation and restoration costs: EUR 24,500,-
WRITTEN AND PHOTOGRAPHIC DOCUMENTATION
TOTAL RESTORATION COSTS: EUR 30,000,-