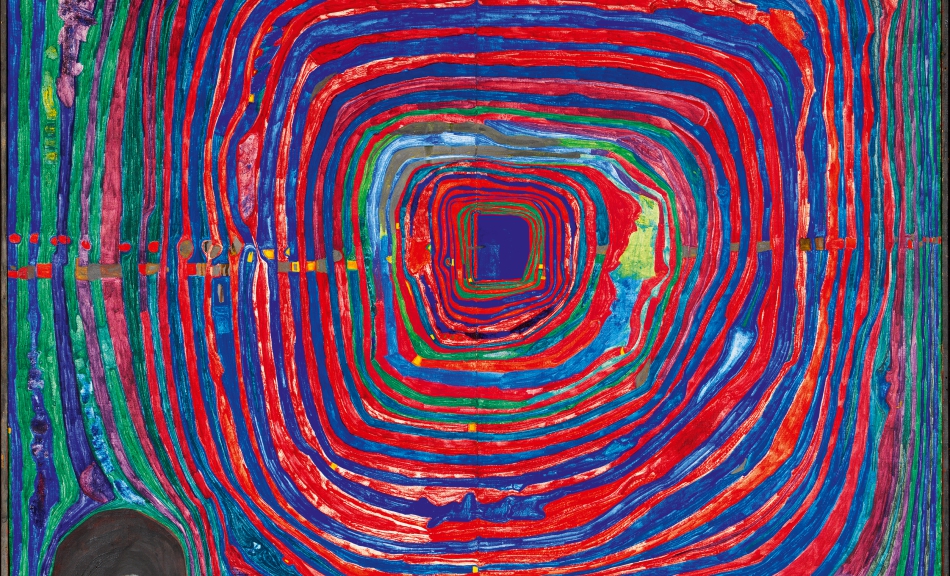 Friedensreich Hundertwasser (1928–2000) shaped 20th-century art beyond the borders of Austria as a painter, designer of living spaces and pioneer of the environmental movement. His life-long, intense exploration of the personality and oeuvre of Egon Schiele (1890–1918) is largely unknown.
At the age of 20, when he was a student at the Vienna Academy of Fine Arts, the artist discovered Viennese Modernism through exhibitions and books: Schiele, especially, would later become a central point of reference for the internationally active artist. Hundertwasser honed his draftsmanship by studying Schiele's drawings, successfully propagated Schiele's art amongst his fellow artists in Paris, and in 1965 gave one of his works the title 622 Mourning Egon Schiele. Until his death, Hundertwasser surrounded himself in his studios and homes in Venice and New Zealand with reproductions of paintings and drawings by his highly esteemed fellow artist. Hundertwasser's poetic text "I Love Schiele", written in 1951, illustrates the extent to which he related to the artist: "I often dream like Schiele, my father, about flowers that are red, and birds and flying fish and gardens in velvet and emerald green and human beings who walk, weeping, in red-yellow and ocean-blue."
Today, 20 years after Hundertwasser's death, the Leopold Museum is dedicating an exhibition, conceived as a dialogue, to these two iconic artists, which comprises some 170 exhibits. Shining the spotlight on central motifs and themes in the works of both artists, such as ensouled nature and the relationship between the individual and society, the exhibition illustrates analogies in their oeuvres that go beyond formal similarities. Through eminent loans from Austrian and international collections and archival material published for the first time, the exhibition retraces the artistic and spiritual kinship of two extraordinary 20th-century Austrian artists, who never had the chance to meet.