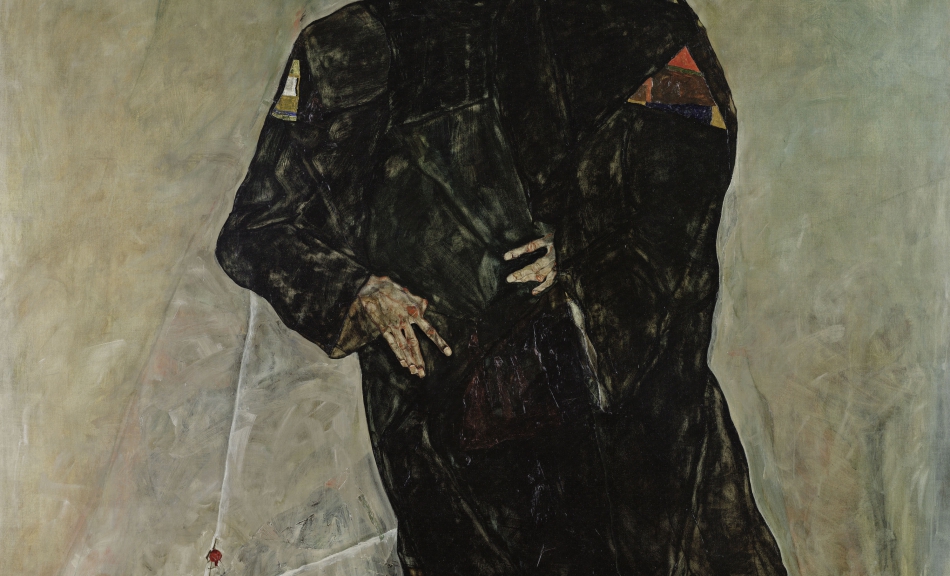 Egon Schiele, The Hermits
In the 1912 painting The Hermits, Schiele melted two life-sized figures into one double-figure. The faces exhibit the features of Schiele (on the left hand side) and of his mentor Gustav Klimt (on the right hand side). In a letter to Carl Reininghaus, Schiele wrote:
"In the large painting one doesn't see exactly how the two are standing there, at first glance." He continued by stating that "this is important to the painting," for "otherwise, the poetic idea and the vision would be lost, as would the ambiguity of the figures who, conceived as being crumpled into themselves, are the bodies of individuals who have grown tired of life, grown suicidal—but even so, they are people of emotion. —Think of these two as being like a cloud of dust similar to this Earth, a cloud which wants to grow into something more but must necessarily collapse, its strength spent."
Schiele painted the great role model of his youth, Gustav Klimt, with closed eyes and a strangely weak and lifeless appearance. To himself he gave full lips which form an oddly striking contrast with his sunken cheeks, his painfully wide-open eyes and the wreath of dried thistles. From the ground below grows a single rose, its petals drying out and its stem bending. One sees here a "terminal illness" taking hold of life. In the letter quoted above, Schiele writes that he would not change anything about this painting, for: "it arose from pure ardency."