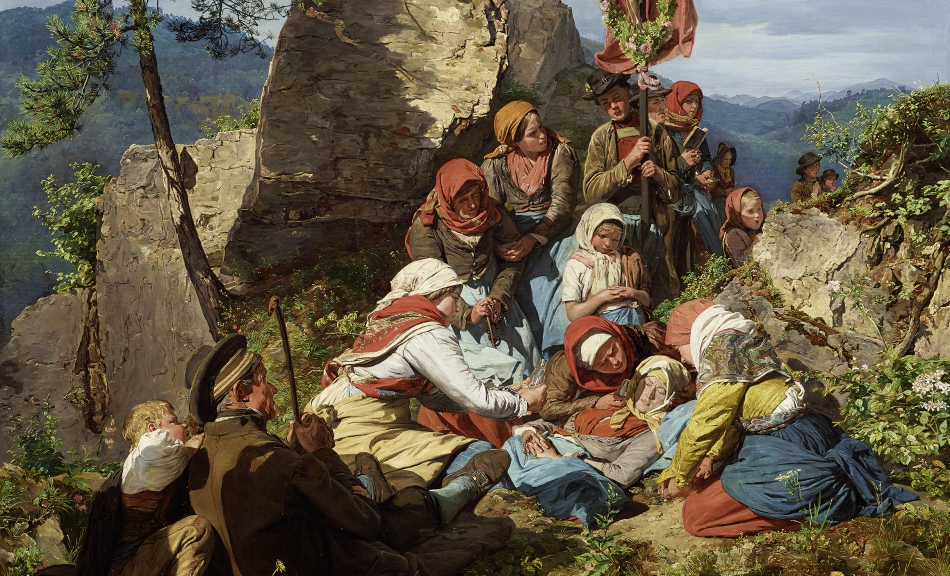 Ferdinand Georg Waldmüller, The Interrupted Pilgrimage ("The Sick Pilgrim")
In this late work by Waldmüller, the artist succeeded impressively in capturing sunlight with a clear and sharp quality that is every bit as exhilarating now as it was back then. This is evident not only in the group of people depicted, but also in the surrounding landscape, the boulders and the trees. Paintings in the peasant genre were in high demand on the Viennese art market during the Biedermeier period. Even so, nobody wanted to see the hard and rough life of the rural population depicted on the walls of middle-class Viennese homes, but rather a colourful, folkloric version thereof, for which reason Waldmüller concentrated on scenes that did not have to do with work in the fields.
In The Interrupted Pilgrimage, the pilgrims consist primarily of young people, with the man sitting at left in the foreground and the old woman in the group representing the exceptions. A woman at the centre of the composition has fainted and lies unconscious but with folded hands. She is being taken generous care of by three girls, two of whom hold drinking bottles. Members of the group are already praying for their unconscious fellow pilgrim, and a boy has positioned a crucifix such that the group of people forms a pyramid which culminates with the crucified figure's head. The urban buying public enjoyed depictions of "simple" folk in an informal setting—pure of heart, humbly bowed to fate, and seeking proximity to God through prayer.