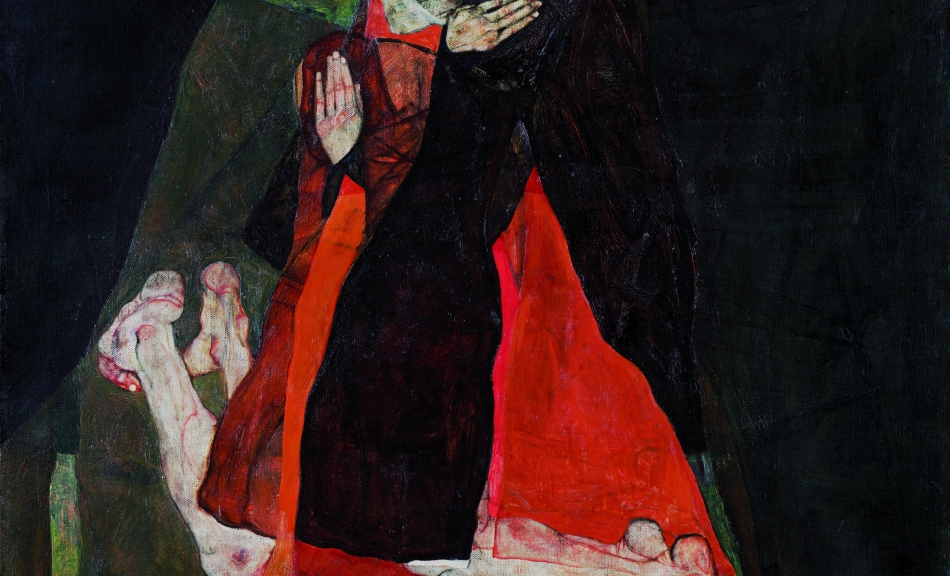 Egon Schiele, Cardinal and Nun (Caress)
Schiele's painting Cardinal and Nun of 1912 is a paraphrase of Gustav Klimt's Kiss, which had been created five years prior.Everything about Klimt's painting that was positive, however, is transformed here into its darker manifestation:the gold background is turned black, the gentle embrace has given way the violent clutching of the two delicate, praying hands, and the sensual expression on the face of Klimt's woman has become a nun's distraught glance.Schiele called the painting of this strange embrace Liebkosung, or "The Caress".
The contrast between the Cardinal's bare, muscular legs and the nun's ecclesiastic garb, between her sober black and his luminous red, reveals the power of sexual desire—which seems quite alienating indeed in the painting's Catholic context.Her posture and facial expression indicate fear—and it remains uncertain whether it is fear of being discovered, of the cardinal, or of sexuality in general.If one compares the appearance of the nun with self-portraits by Schiele from the same period, one notices an astounding resemblance in terms of facial features.Did the artist lend this terrified woman of the cloth his own features because he, too, felt sexuality to be a demon which brought great misfortune? Upon Schiele's marriage in 1915, in any case, his portraits of women changed: they became calmer, and their inherent sexuality lost both its terrifying quality and its unsettling force.