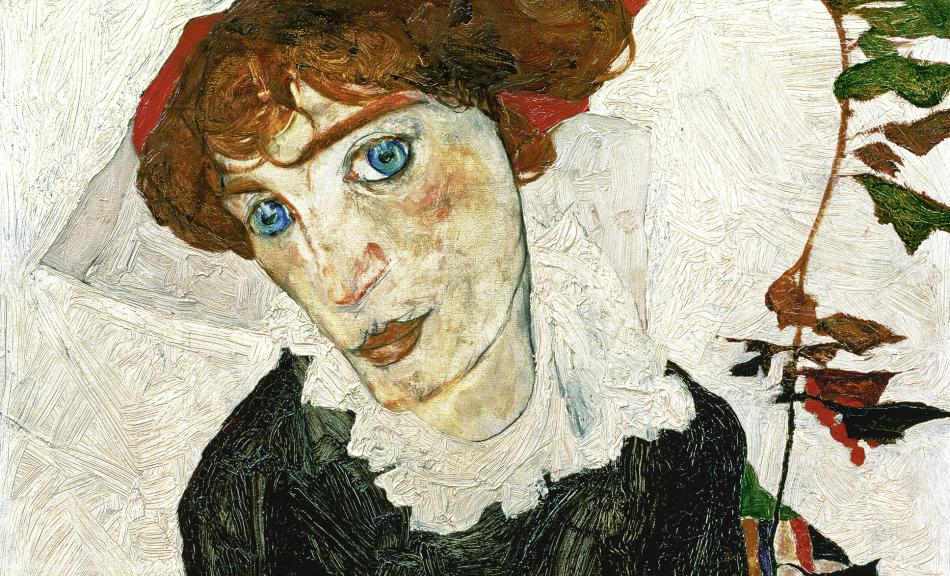 Egon Schiele, Portrait of Wally Neuzil
This woman nicknamed Wally, gazing out of the painting with wide-open, outsized eyes, was of enormous importance to the young Schiele.The portrait, of balanced composition, is a counterpart to the Self-Portrait with Chinese Lantern Fruit, which the artist created around the same time.
Wally was born as Walburga Neuzil on 19th August 1894 in the Lower Austrian community of Tattendorf, south of Vienna.She was the daughter of a day labourer and a Bohemian schoolteacher who died young—an event which forced the family to move to the capital, where Wally's fateful initial encounter with Schiele took place around 1911.Over the next few years, Wally was to become the lover, muse and model of the artist, who was four years her senior, and she was also to care for him with no small affection.When Schiele was taken into investigative custody in April 1912, she brought him painting supplies and an orange which, as Schiele noted in his diary, represented his "sole light" during these dark days.The main charge which he faced—abduction of a minor—proved groundless, but the court even so proceeded to convict him of the "distribution of indecent drawings."Schiele was to spend a total of 24 days in prison, during which he painted several sketches—including of the oranges.
In the 1912 portrait, Wally seems surrounded by an aura of melancholy or sadness; it is as if she already foresaw the end of her relationship with Schiele.In June 1915 Schiele married Edith Harms, the daughter of a master locksmith who lived nearby, and Harms quite understandably demanded that Schiele end his relationship with Wally.It is said that in their final conversation, held at a Viennese coffeehouse, Schiele suggested to Wally that they take a vacation together at least once a year.This was inacceptable to both women.Wally thereafter decided to start her life again, beginning training as a nurse.She then left Vienna in 1917 to work in Dalmatia, where she died of scarlet fever on 25th December of the same year.After their separation, Schiele never saw her again.