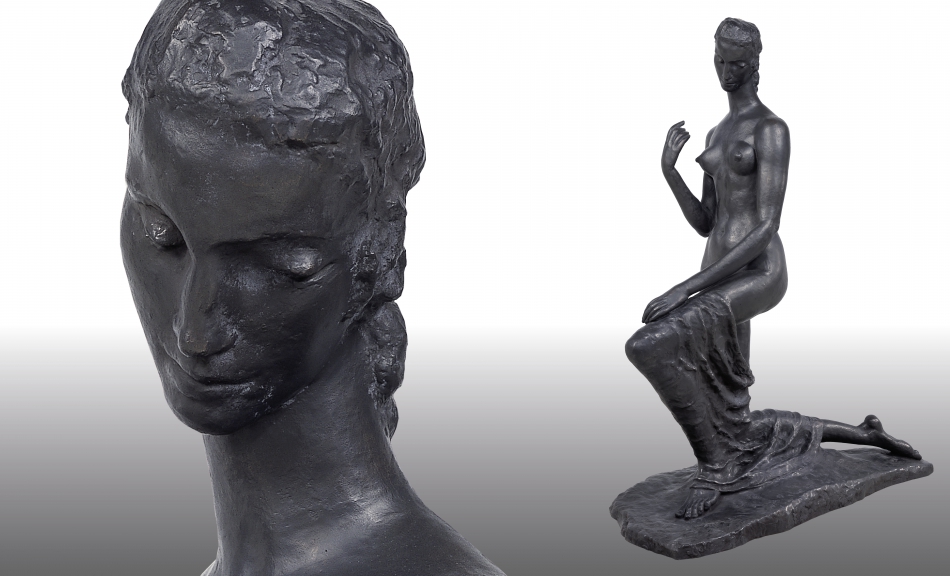 Wilhelm Lehmbruck
1881–1919
Kneeling Woman, 1911
Bronze with anthracite-colored patina, 174,5 x 67,7 x 140 cm
Estate W. Lehmbruck
Following on from his "searching" early oeuvre characterized by a pluralism of styles and rooted in the traditions of academicism, Wilhelminism and Neoclassicism, Wilhelm Lehmbruck arrived at a new sculptural expression and spiritual image of man in his figures from 1910. The sense of inwardness and sensibility permeating the sensitive corporality and increasingly expressive gestures of his sculptures make Lehmbruck an important innovator of European sculpture.
The stylistically ground-breaking change in Wilhelm Lehmbruck's oeuvre manifested itself in a radical manner in 1911 in the sculpture Kneeling Woman, which was celebrated by Theodor Däubler in his book The New Viewpoint (1916) as the "preface to Expressionism in sculpture". Meier-Graefe, who was probably among the first people to see this momentous work, recalled: "One day, all the female busts and torsos with a classical touch were cleared away, and in the center of the studio was a larger-than-life, half kneeling, seemingly endless female figure. It completely contradicted Marées's spirit and even more so Maillol's coherence. At first glance it resembled a gigantic jointed doll". While the figure initially caused controversy during its first presentations in Paris in 1911 and in Cologne in 1912, it has been regarded as a central Expressionist sculpture latest since its exhibition at the Armory Show in New York.
An important source of inspiration for the Kneeling Woman were the figures of the Belgian sculptor George Minne, which in their idiosyncratic elongation express an inner longing, a sense of stretching to reach spiritual dimensions.Similar efforts by Lehmbruck can be deduced from the "Gothic" elongation of the Kneeling Woman's proportions. The wealth of expressive and graceful gestures is highly complex, allowing for different interpretations between chastity and humility, ardency and gentleness, dignity and spirituality. Another special feature of this sculpture is the fact that Lehmbruck included and activated the space around it as a design element.
This text was written by Hans-Peter Wipplinger, Director Leopold Museum, Vienna.