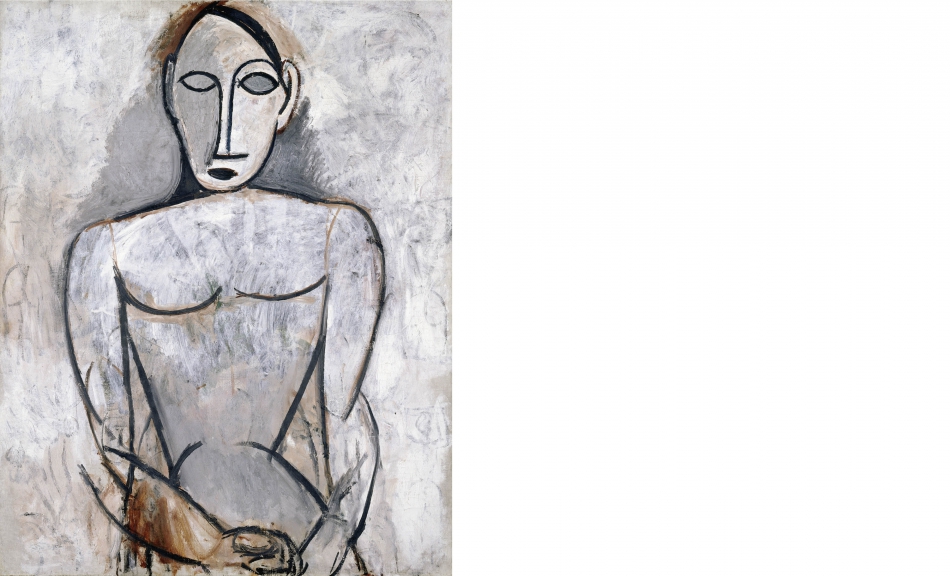 Pablo Picasso
1881–1973
Woman with Folded Hands, 1907
Oil on canvas, 90,5 x 71,5 cm
Prêt du Musée national Picasso – Paris
In the autumn of 1906 a soirée was held at Gertrude Stein's Paris salon, where Henri Matisse showed an African mask to a 25-year-old Pablo Picasso. This outlandish object purportedly cast such a spell over the Spaniard that he did not want to part with it for the rest of the evening. Another African initiation – and thus another important episode in the foundation legend of Modernistic Primitivism – took place in the spring of the following year, when the painter found himself more or less by chance in the Africa department of the ethnological museum Trocadéro, back then a dusty and malodorous collection of colonial trophies. He was inclined to leave, but decided to stay, Picasso later revealed during a conversation with André Malraux. For in this strange place he had realized that especially the masks and figures used in traditional African societies for warding off demons could become a driving force for his own thoroughly rebellious pictorial poetics. After the completion of Les Demoiselles d'Avignon in July 1907 Picasso started collecting Africana himself.
Picasso's paintings from the first half of 1907 were still steeped in the melancholy of his Blue and Rose Period – this was especially evident in the oval faces that the artist created under the influence of stony Iberian heads dating back from the fifth to the third century before Christ. Picasso's epochal transition from "Iberian" to "African" faces, which occurred during these months, is documented in the monochrome depiction Woman with Folded Hands. Let us first examine the face, or rather the calligraphy of the eyebrows and the nasal bridge – beholders trained in 19th century academism may have confined themselves to smiling at the protagonist's plain gracefulness. The unraveled anatomy, however, must have seemed to them like an unprecedented, downright anarchistic insult. Picasso decidedly took this breaking with established traditions even further, for his decision to dispense with shading and leave his aid lines visible amounted to the manifestation of an usurpatory act – that of elevating drawing to the rank of painting. Let us now turn to the vegetation painted over with light colors and the nudes seen from behind (studies, mind you) which present their phallic-shaped bottoms to the beholders in the depiction's background as well as to the ungainly sienna applied in a gestural manner to the left forearm. Rather more a palimpsest wall than a painting, Woman with Folded Hands is a first-rate testament to galloping Modernism's seemingly infinite processes of discovery.
This text was written by Ivan Ristić, curator of the exhibition. You can find the original painting in the Exhibition "Foreign Gods".