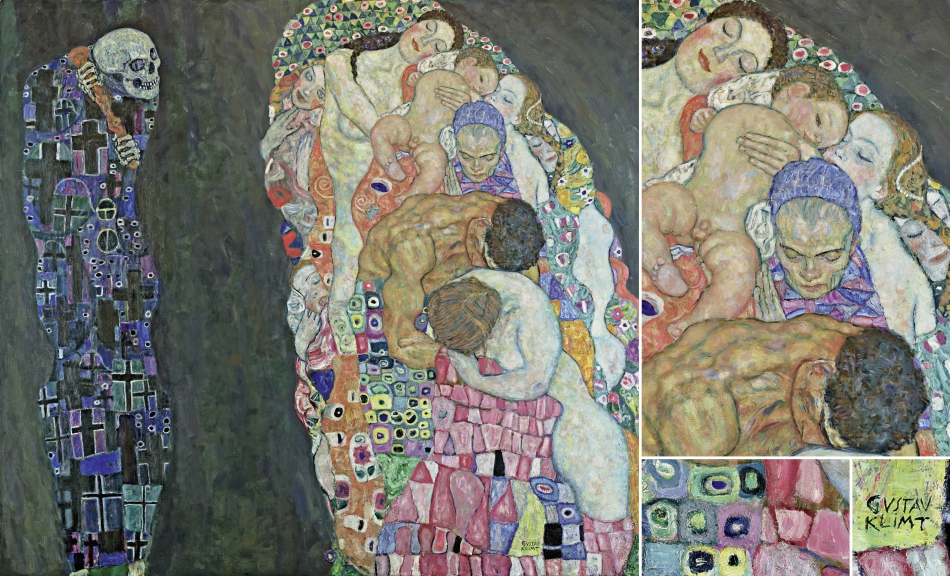 Gustav Klimt
1862–1918
Death and Life, 1910/11, reworked in 1915/16
Oil on canvas
180.8 x 200.6 cm
Leopold Museum, Vienna, Inv. 630
Gustav Klimt started working on the painting "Death and Life" in 1910. He had likely already been contemplating a work on this theme during the two previous years, as numerous preparatory pencil studies show. The painting boasts a symmetrical composition, the figure representing death and the group symbolizing life opposing one another as subjects of equal importance. Death appears as a skeleton clad in a long, kimono-like dress with a pattern of cross-shaped and circular ornaments, the blue and violet hues of the depiction matching the figure's solemnity. He is juxtaposed with a densely packed group representing life, the center of which is made up of a mother holding her infant, an older woman bowing down as well as an amorous couple bending forward. Grouped around these protagonists are further female figures, their nude bodies draped in colorful, patterned cloths. The manner in which the only partly visible nudes alternate with ornamental islands of color vividly illustrates the pleasure Klimt took in this game of covering and uncovering. For Klimt loved alternating between enveloping and exposing his figures, developing a delightful interplay between the colorful ornaments of the dresses and the velvety smooth tones of human skin. The figures appear introverted, their eyes closed, their postures suggesting calm and relaxation. Either they are unaware of the danger posed by death or they are simply denying it. Death, however, is lying in wait with a club in his hands, sneering, his gaze fixed on the people opposite him, ever ready to claim his victims. Dreamy rapture and immediate danger coexist in close proximity. Klimt's depiction portrays the circle of life, the simultaneousness of the joys of love and the hardships of old age.
The work "Death and Life" was first presented to the public under the title "Death" at the 1911 International Art Exhibition in Rome, where Klimt was awarded a gold medal for the painting. In 1912 it was featured in the International Art Exhibition in Dresden, this time already under its current title "Death and Life". For reasons unknown to us, Klimt decided to rework the painting in 1915. He fundamentally altered the depiction of death and added further figures to the group. He also painted over the originally brownish background with an icy, bluish gray hue, thus intensifying the tension between the cheerful, warm colors of the group of life and the coldness of the environment.
This text was written by Franz Smola, Curator of the Collection of the Leopold Museum, Vienna.
You can find the original painting in the Leopold Museum in the Collection Leopold, Vienna 1900.