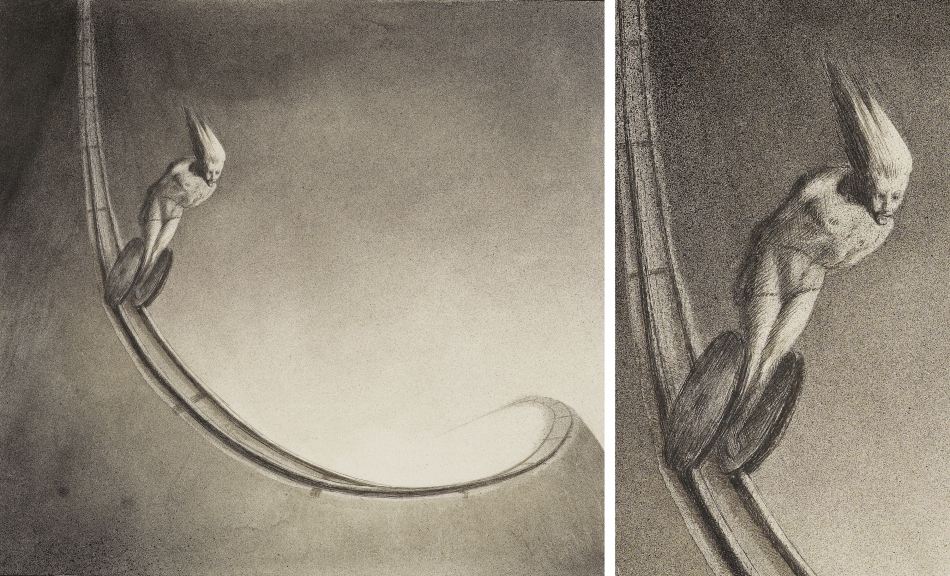 ALFRED KUBIN
1877–1959
MAN | 1902
India Ink, Watercolor, SPRay Technique
On Cadastral Paper
38,5 × 31,4 CM

Without the ability to change direction or to escape the end of the track looming in the distance, a helpless man on a rollercoaster rushes to meet his merciless fate. As he races down the track, his hair blowing in the wind and his hands tied behind his back, his expression is rigid and apathetic. It is a reflection on the general fate of humanity that Kubin brought to illustration on this paper. In 1904, he wrote in a letter to his sister: "Death, nothingness, is the fate of the world, [and all] those individual forces which together constitute the world. Each [of us] expire unconditionally [along] a predestined route – like a machine" – the cosmic destiny of man as seen through the lens of a decidedly bleak worldview!
Extract from the book "Radek Knapp. The hour of birth":
"Correct," said the Devil in astonishment. "And since you are so good at guessing, I will reveal a final riddle myself. Do you know the result of all of this? It is an idiot. He races down as if he had wheels instead of legs and is interested only in what lies before him rather than behind him. The airflow makes him blind and yet he believes he can see everything. Here in this town, he is also called man. My brother can tell you a thing or two about this idiot."
Available in the Leopold Museum Shop!