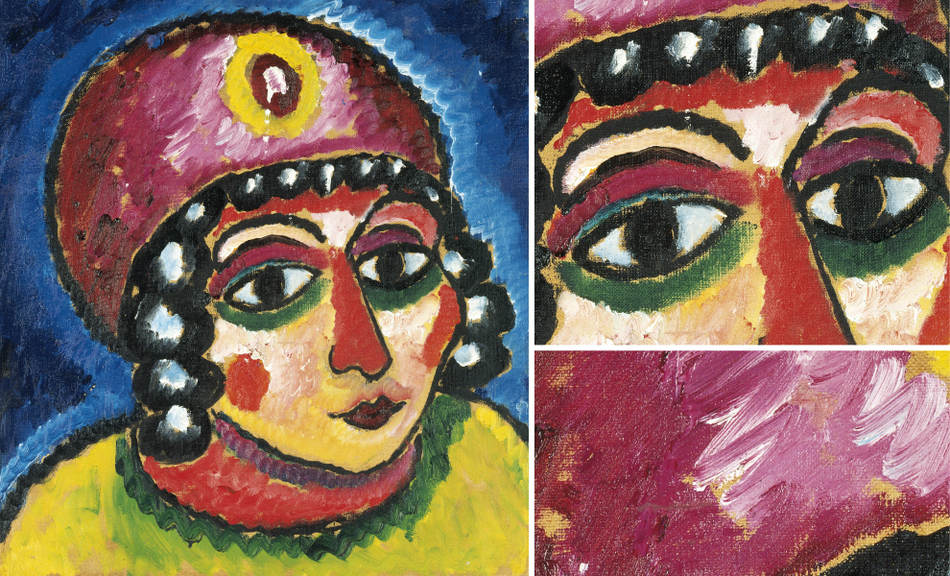 Alexej von Jawlensky
1864–1941
Study of a Girl's Head with Red Turban and Yellow Clasp (Barbarian Princess), 1912
Oil on hardboard, 55 x 51 cm
Osthaus Museum, Hagen
This work represents a veritable jewel of color painting which is dominated by a fiery red. Interspersed with cooler tones, the red of the turban takes on a purple hue, symbolizing the color of the rulers of fallen empires. Also reminiscent of the cheeks of matryoshka dolls, the red further evokes the rare but all the more vibrant color accents encountered in Russian icon painting. It is by no means a coincidence that a homonymous connection exists between the Russian words for "red" and "beautiful".
The young exotic female looks at beholders with an intent and spellbound expression. All emotional passions and spiritual elements appear to be condensed into a magical power in her gaze. It is rare for the seemingly naive to be communicated with such universal validity, a quality that this rendering shares only with the calligraphy of Ottonian Gospel Books, the both buoyant and abysmal visions of the Georgian artist Niko Pirosmani, the artistry of the "mentally ill" and finally also with children's art. Pablo Picasso once said: "It took me four years to paint like Raphael, but a lifetime to paint like a child".
The depicted may be the artist Katharina Konstantinowka, one of Alexej von Jawlensky's few identifiable models of 1911 and 1912. The painting represents the pinnacle of a development that had started already in 1908. Back then, the Polish artist Wladyslaw Slewinski, a friend and ardent admirer of Paul Gauguin's, prevailed upon his Russian colleague to abandon the delicate "daubing" of Neo-Impressionism in favor of a planar paint application. In 1910 Jawlensky created paintings in Murnau, in which Gauguin's Cloisonnism entered into a synthesis with Bavarian reverse glass painting. A year later, the artist would, by his own admission, only paint "out of an inner ecstasy".
This text was written

by Ivan Ristić, Co-Curator of the exhibition.