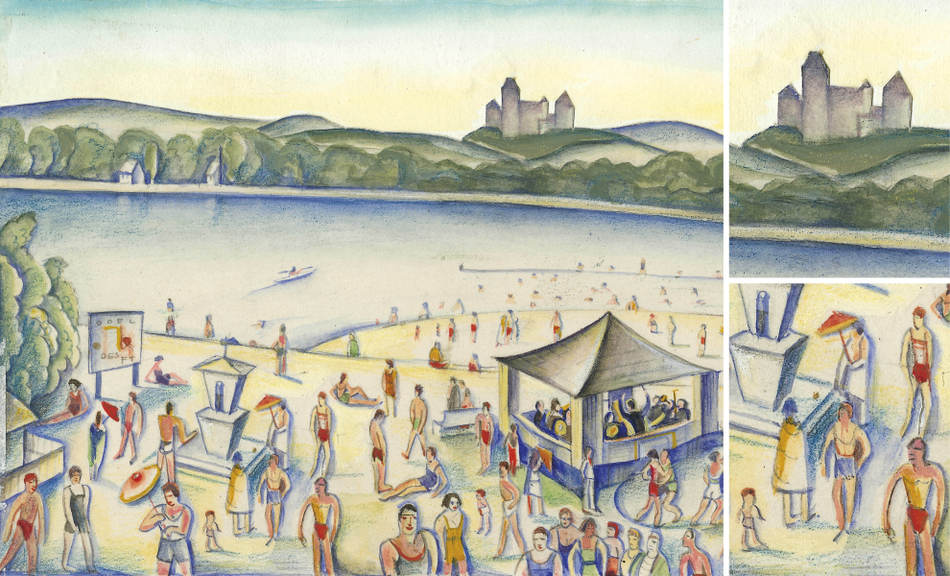 Carry Hauser
1895–1985
"Bathing Beach Kritzendorf. Design for a picture inside a cigarette pack", 1928
Watercolor on paper, 19 x 26 cm
JTI Collection Vienna
In the 1920s and 30s, the urban middle classes sought escape from the city's summer heat at the natural bathing beach Kritzendorf on the Danube situated some 20 kilometers upstream of Vienna. In his watercolor created in 1928, the Viennese painter and graphic artist Carry Hauser (1895–1985) depicted the frolicking bathers clad in their swimming costumes gathering informally around a music pavilion, where a band is playing. Two couples are even dancing. Beyond the broad Danube, Kreuzenstein Castle is visible behind rolling hills. The watercolor was painted in the style of New Objectivity, which is readily discernible from the sharpness of the contours and the clear and neat manner in which the motifs have been strung together.
Carry Hauser's watercolor was created for a competition held by the Austrian Tobacco Monopoly in 1928. The approximately 40 male and female participating artists included members of the artists' associations Secession and Hagenbund as well as members of the Wiener Werkstätte and the Werkbund. Smaller versions of many of the submitted works were used to adorn the insides of cigarette packs. Among these contributions were many works by female artists, which was highly progressive for this time.
The Austrian Tobacco Monopoly held a monopoly on the production of cigarettes and cigars in Austria at the time. In the 1920s, the company started to design highly original and sophisticated packaging for its products. The products' design soon reached such a high standard that the London magazine "Advertising Display" declared Austria a trendsetter in the field of tobacco packaging. The current exhibition "Fleeting Beauty. Art and Design of the 1920s from the JTI Collection Vienna" at the Leopold Museum features around 150 highly diverse exhibits on the theme of tobacco.
This text was written by Franz Smola, Curator of the Collection at the Leopold Museum, Vienna.