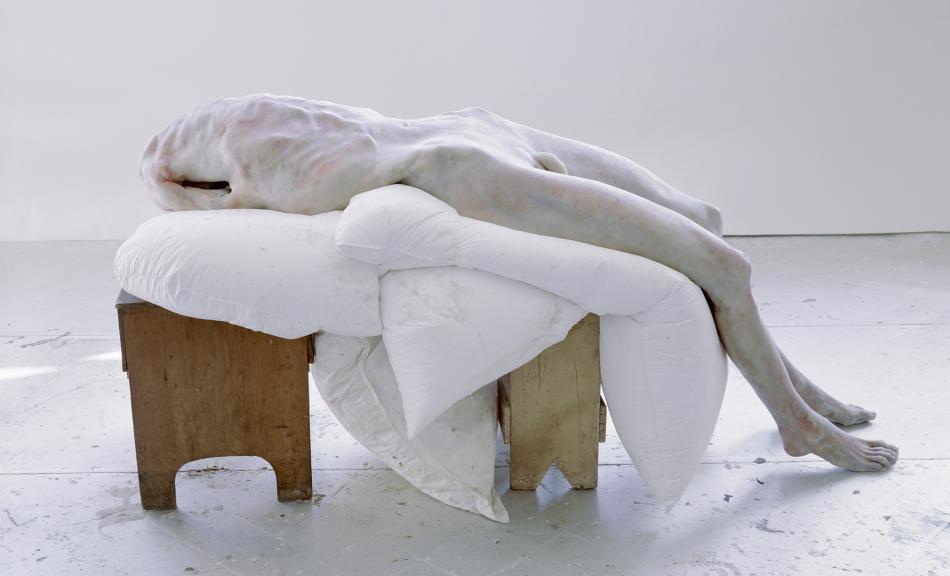 The Belgian artist Berlinde De Bruyckere's (born 1964) impressive sculptures, which present the human body in its raw beauty and vulnerability, make her one of the most internationally famous sculptors today. With her seemingly timeless figures De Bruyckere addresses existential questions of life and death as well as pain and suffering and emphasizes how human existence is anchored in the flesh.
Rather than seeing the human body as a fixed entity, the fragmented bodies of her waxen sculptures, which exhibit an almost uncanny realism, appear to be subjected to a constant process of transformation between growth and decay. Thus, the artist manages to articulate her questions against the backdrop of the finality of human life as well as to address the fact that each body undergoes metamorphoses due to personal, social and political processes. With her sculptures De Bruyckere focuses on the formations and deformations of the human body as places of historic inscriptions, as she derives her inspiration not only from current media images but also from the classical iconography of art history, which she updates in her works to fit the present.
The first comprehensive solo exhibition of the artist's work in Vienna – which impresses with key pieces and series of works from the past two decades – thus resembles an interpretation of general human experiences on the depiction of corporeality. With its focus on the art of Viennese Modernism, the Leopold Museum provides a unique space of resonance for this solo exhibition. For much like De Bruyckere, the artists of Viennese Modernism also sought to »recognize the flesh« (Werner Hofmann) by going »from figuration to defiguration« in order to »link life and death, Eros and Thanatos, the pleasure principle and the death drive« (Jacques Le Rider).
Curator: Stephanie Damianitsch