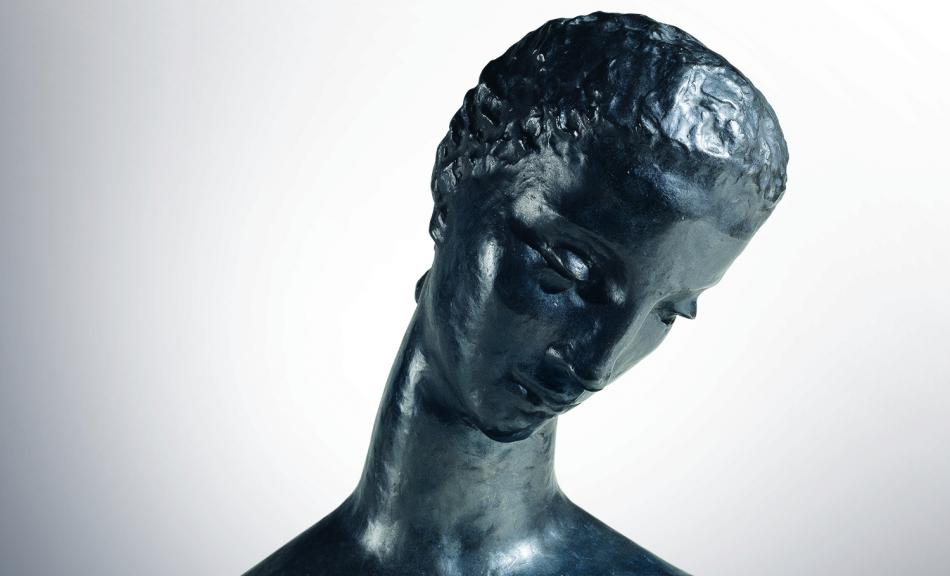 Wilhelm Lehmbruck (1881–1919) is among the most important artists of the first half of the 20th century. The Leopold Museum is devoting a first comprehensive retrospective in Austria to this influential innovator and pioneer of modern European sculpture, which will feature 50 sculptures as well as around 100 paintings, drawings and etchings.
The exhibition traces Lehmbruck's artistic development from his time at the School of Arts and Crafts (1895–1899) and as a student of the Academy of Fine Arts Düsseldorf (1901–1906) all the way to his most famous pieces, from his »searching« early work, in which he processed various influences, to the evolution of his distinctive sculptural language. Inklings of this highly autonomous style were already discernible prior to his move to Paris in 1910 when he broke with the canon of forms shaped by academic conventions in favor of a more experimental and abstracting design vocabulary which characterized his stay in Paris between 1910 and 1914. This emergence of original works was fueled not only by the omnipresence of works by Auguste Rodin and Aristide Maillol in Paris at the time but also by Lehmbruck's personal encounters and friendships with contemporary colleagues including Alexander Archipenko, Constantin Brâncuşi and Amedeo Modigliani. The exhibition will include works by these artists as well as by George Minne, Käthe Kollwitz, Ernst Barlach and Egon Schiele. Among Lehmbruck's most eminent works are those created during World War I up until his suicide in 1919. They reflect the sensitivity and fragility of Lehmbruck's character as well as his profound humanity and are characterized by an introversion of gestures coupled with a strong sense of soulfulness. His introverted bodies are charged with emotions, such as desperation, grief, shame and melancholy, through which he expresses his suggestive notion of the human body.
When he received the Lehmbruck Prize in 1986, Joseph Beuys mentioned this intuitive, emotional power expressed in Lehmbruck's sculptures in his acceptance speech. Beuys's oeuvre will enter into a dialogue with Lehmbruck's works at the end of the exhibition. The juxtaposition of these two artists, whose works, and especially their drawings, boast striking similarities in terms of their sense of fleetingness and incompleteness, serves to underscore that the impact of Lehmbruck's oeuvre extends far beyond his time. For even viewed from today's perspective, his works are not only of eminent art-historical importance but appear highly topical in light of current political events around the world.
Curator: Hans-Peter Wipplinger