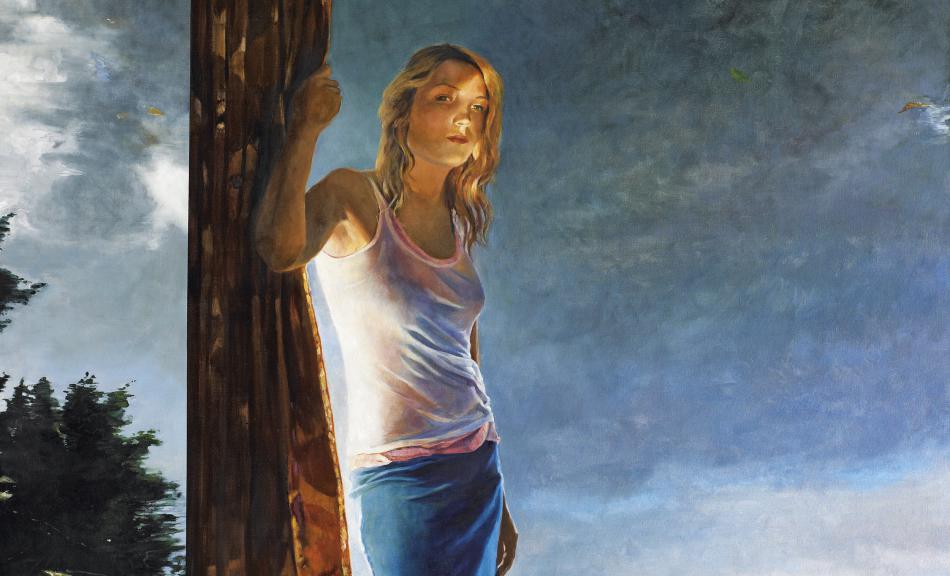 With a selection of over 100 works, the Leopold Museum presents the first comprehensive cross-section of the over 5,000-work art collection of Vienna Insurance Group (VIG), which was created from the combined art holdings of subsidiaries Wiener Städtische Versicherung, Donau Versicherung and the Group's newest member s-Versicherung. Since the 1920s, Wiener Städtische Versicherung has been involved in art and in art patronage. These activities eventually developed into active collecting, which has by now given rise to a notable art collection with an emphasis on painting and graphics created between 1945 and the present.

The lion's share of the collection is housed at the insurance group's headquarters in the Ringturm building, a tower-like structure erected in 1955 according to plans by Erich Boltenstern.

The collection's major works include Oskar Kokoschka's painting Anschluss – Alice in Wonderland of 1942, which deals with wartime politics and war's horrors. The early years of the post-1945 Austrian Republic are represented in Vienna Insurance Group's collection via major works by Herbert Boeckl, Arnulf Rainer, Giselbert Hoke and Max Weiler. Important examples of painting during the 1960s and 1970s are works by Hans Staudacher, Oswald Oberhuber, Georg Eisler, Robert Hammerstiel and Franz Grabmayr.

Since the 1970s, representatives of fantastic realism—including Rudolf Hausner, Arik Brauer and Helmut Leherb—have likewise seen their works acquired by the collection of Vienna Insurance Group. The 1980s bore witness to the sometimes-figurative and always dynamic and surprising works of young upstarts such as Hubert Schmalix, Alois Mosbacher, Erwin Bohatsch, Alfred Klinkan, Hubert Scheibl and Herbert Brandl. Vienna Insurance Group has also placed a clear emphasis on nonrepresentational painting from 1990 to the present, as seen impressively in the works of artists including Josef Mikl, Markus Prachensky, Hermann Nitsch, Otto Zitko, Drago J. Prelog and Martha Jungwirth.

At the same time, the 1990s were also characterised by minimalist stances such as those of Sabina Hörtner, Florentina Pakosta, Gerold Tagwerker, Marko Lulic and Jakob Gasteiger.

The emancipation of conceptual art as its own genre revolutionised the art of more recent times in a deep-reaching way, as this exhibition shows with works by artists including Meina Schellander, Peter Weibel, Julius Deutschbauer, Peter Kogler and Werner Reiterer.

In concert with and due to the triumph of film and computers, the 1990s also saw a renewed interest in figurative portrayal, with artists making use of new media as a matter of course and generally adopting a rather ironic and critical approach. Important representatives of this trend include Deborah Sengl, Gerda Leopold, Ulrike Lienbacher, Peter Sengl and Robert Zeppel-Sperl.
Contemporary artists' deep involvement with photography is also reflected in the collection, examples being the photographic works of Irene Andessner, Maria Theresia Litschauer and Gerhard Trumler, as well as photography-related works by Eva Schlegel, Ilse Haider and Lorenz Estermann.

In recent years, the Ringturm building itself has repeatedly become the object of artistic doings. In 2001, Johannes Deutsch accented the entrance area with an impressive façade installation. Christian Ludwig Attersee covered the Ringturm temporarily with an oversized motif in 2006, and the year 2007 saw the building covered over by Robert Hammerstiel. 2008 witnessed the Ringturm's transformation into a temporary artwork according to a design by Hubert Schmalix.