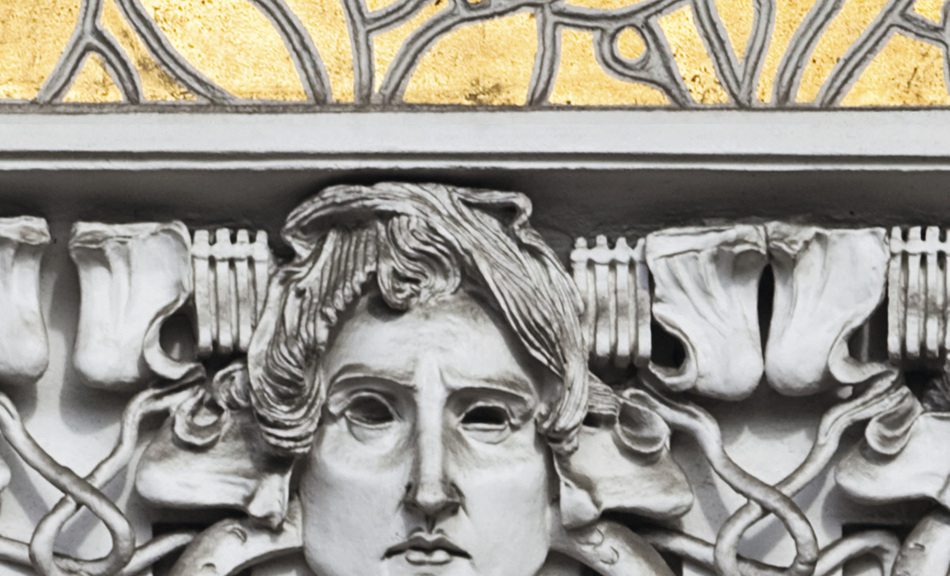 An exhibition of Institut Mathildenhöhe in cooperartion with the Leopold Museum and Kunstbibliothek - Staatliche Museen zu Berlin


An Architect, Designer and Universal Artist

In the summer of 2010, the Leopold Museum will be joining with Institut Mathildenhöhe Darmstadt to mount the most comprehensive exhibition to date on the oeuvre of Joseph Maria Olbrich (1867-1908). This large-scale retrospective is to present around 300 individual works by this architect and universal artist, thereby putting Olbrich's oeuvre into the aesthetic context of Viennese Modernism. The works on loan from public and private collections in Germany and Austria are to include furniture, textiles, drawings and watercolors.

MODERN FORMS AND LIVING ENVIRONMENTS
Olbrich is one of the most outstanding personalities in architecture and arts and crafts from the period around 1900, and he is closely associated with the development of modern forms and living environments. The hundredth aniversary of his death in 2008 provided an opportunity to devote renewed and in-depth attention to his extremely complex oeuvre, which ranges from architecture to interior decorating and garden design, and from applied arts to the design of industrial forms. An academic symposium held in July of 2008 by Institut Mathildenhöhe opened up new approaches to Olbrich's body of works both for researchers and for the interested public. The findings of the theoretical discourse which resulted, as well as various designs, plans and objects (some of which were discovered only during this process), are to be used to stage a comprehensive Olbrich retrospective. This exhibition will take place in Darmstadt and in Vienna, Olbrich's two main places of work, and will present numerous items from collections in Germany and Austria.
Olbrich's body of works, which is exemplary for the turn of the last century, is still quite difficult to comprehend as a whole – despite the brief timeframe within which it was created. It has been 26 years since the last major Olbrich exhibition, which catalog has long since become unavailable. To this day, there exists no comprehensive monograph on the artist. Olbrich is viewed as the central figure of the reform efforts that took place around 1900, and he influenced and shaped the ideas of the generation that followed. Architects of the modern era such as Erich Mendelsohn, Bruno Taut and Le Corbusier took important impulses from the design elements that characterized Olbrich's oeuvre.
Since many of Olbrich's works were destroyed by war-related events, and since the documents on the architect's work ended up being scattered to the most varied locations, the significance of this artist-architect – who died quite young – is not nearly as well anchored in the public mind as, for example, that of his contemporaries Henry van de Velde, Josef Hoffmann and Peter Behrens. Olbrich thus remains a "great unknown" who had an impact which is often underestimated.
Olbrich was a universally creative artist, an architect devoted to the idea, current around 1900, of the melding of art and life. The reconstruction of selected individual projects via original designs, odels, historic photographs, documents and objects allows the impressive richness of his ideas to be portrayed. In terms of architecture's development during the 20th century, Olbrich's creative potential is shown in his contributions to construction projects such as the "Gartenstadt" [Garden City] and the "Kleinwohnungsbau" [a complex of small apartments]. An important aspect is the "Lebensreform" [life reform] movement, a formative influence during the period around 1900 which Olbrich sought to support via design that was meant to encompass and harmonize all facets of life. With the presentation of areas of his work which have received only scant attention up to now (such as garden art), and via the examination of certain issues such as the actual way in which the artist collaborated with his producers, this exhibition will also break new ground. The cooperative effort with the Leopold Museum in Vienna, which owns the world's largest collection of Austrian art around 1900, also makes it possible to show impressively Olbrich's artistic anchoring in Viennese Modernism using important
works by artists such as Otto Wagner, Koloman Moser and Gustav Klimt.

CATALOG AND SIGNIFICANCE OF THE EXHIBITION
The objective of this exhibition and its catalog is to portray and commemorate the universal artist Olbrich in a contemporary manner, speaking to and capturing the interest of both the broad public and specialists.
To accompany the exhibition, a monograph will be prepared which, in addition to containing a comprehensive presentation of Olbrichs oeuvre using diverse source and image material (some of it as yet unpublished), will also present current research findings and should thus become a standard work.
One focus will be on Olbrich's groundbreaking role in the development of the modern architecture of the 20th century and the formative influence of his designs on later generations of architects. His body of work provides an exemplary demonstration of the significance of architecture and art as elements of modern living in the reform movement around 1900. Accordingly, one goal of this project is to draw attention to the currency of Olbricht's ideas for urban construction and the design of dwellings and other living spaces.
The exhibition and publication are meant to reinstate Olbrich's body of work in the consciousness of a broader public and, most importantly, to shed light on the international relevance of his work beyond its obvious importance for Vienna, Darmstadt and the Rhineland. The events of the accompanying program will examine in-depth various individual aspects of Olbrich's art and that of his contemporaries, and concerts will provide an impression of Vienna's musical culture around the year 1900. Alongside workshops, general tours and specialized tours, a children's program put together specifically for this exhibition will provide the opportunity to discover Olbrich's works in a special way. Since Olbrich was the most influential architect of the Darmstadt Artists' Colony on
Mathildenhöhe, this exhibition and catalog project also has a cultural-political mission, since Mathildenhöhe – with its one-of-a-kind art nouveau ensemble – intends to apply for UNESCO World Heritage Site status. The curator of this exhibition is the art historian Dr. Regina Stephan, professor of architectural history at the Mainz University of Applied Science.

Life and Works of Joseph Maria Olbrich
The Silesian-Austrian architect Joseph Maria Olbrich (1867-1908) numbers among the most prominent representatives of "Reformkunst" [reformed art] at the dawn of the modern era. He left his lasting mark on the cities of Vienna and Darmstadt in the form of grandiose architectural works. His fame is founded upon exemplary works of Secession art and Art Nouveau. To an extent greater than most in his generation, Olbrich had enjoyed well-founded academic and practical construction training and, unlike Henry van de Velde and Peter Behrens, he did not take a detour by way of painting. This notwithstanding, he was an excellent draughtsman and watercolorist.

Vienna – Secession
It was thanks to his abilities in this field, in fact, that he found employment at the construction office of the most famous Viennese art nouveau architect of all, Otto Wagner, before he achieved fame of his own by creating the famous Vienna Secession building.
Overnight, this spectacular initial work made Olbrich one of the most prominent figures in the vanguard of that modern movement that had set as its goal the comprehensive renewal of the arts and culture. These overarching ideas peaked in the melding of art and life via the conscious aestheticization of everyday life as well as in the demand to emphasize the individuality of human beings via artistic means. An expression of these intended goals were the interiors of the art nouveau, which were designed right down to the most miniscule detail. Olbrich, who joined many of his contemporaries in adhering to the ideal of the "Gesamtkunstwerk" [total work of art], had already achieved mastery in the staging of private life as early as his Viennese years, as one can see in the
private apartments he furnished.

Darmstadt - Mathildenhöhe
In Darmstadt, where he moved in 1899, Olbrich was faced with new artistic tasks and challenges. Grand Duke Ernst Ludwig had called him to his city of residence because he sensed in Olbrich's work a certain Austrian cheerfulness and lightness which he found to be quite lacking in German art. At the artists' colony which the Grand Duke had founded, Olbrich soon assumed the role of "primus inter pares." He developed the overall concept for the legendary exhibition Ein Dokument deutscher Kunst [A Document of German Art] of 1901 and designed most of the buildings of the growing planned community, thus making the Mathildenhöhe site into a pinnacle of Art Nouveau in Germany. Olbrich also received numerous private commissions to build residential houses and decorate apartments – not just in Germany, but in neighboring countries, as well. He designed large structures such as train stations, indoor swimming pools, hotels and water towers, while also involving himself in the design of gardens – which he felt to be an integral part of his architecture.

Design and Artisanship
Olbrich's broad range of construction activities was matched by the number and diversity of his designs for utilitarian and ornamental items. Whether hand-crafted luxury articles or reasonably priced mass-produced products, these designs speak of the immense creative potential of this highly gifted universal artist.

Düsseldorf
A further place where Olbrich was active was the Rhineland. In 1907, he moved (along with part of his construction office) to Düsseldorf, where he was already busy putting up the Tietz department store alongside building several private villas in Cologne. It was after his departure that Mathildenhöhe saw the completion of his final Darmstadt structures: the Wedding Tower and the Exhibition Building. On 8 August 1908, Olbrich – at the height of his powers – died of leukemia.

ARCHITECTURAL WORKS
1897-1898 Vienna Secession exhibition building, Vienna
1899 Stöhr house, St. Pölten
Residence of Max Friedmann, Hinterbrühl
1899 Clubhouse of the Bicycling Association of State and
Court Civil Servants, Vienna
1899-1900 Residence of Hermann Bahr, Vienna
1900 Stifft house, Vienna
1900 Group of buildings for the builder Wilhelm Ganss, Darmstadt
1900-1901 His own residence, Darmstadt (significantly altered)
1900-1901 Residence of Hans Christiansen, Darmstadt (destroyed by war)
1900-1901 Residence of Carl Keller, Darmstadt (destroyed by war)
1900-1901 Residence of Julius Glückert, the so-called Large Glückert House, Darmstadt
1900-1901 Residence of Rudolf Bosselt, the so-called Small Glückert House, Darmstadt
1900-1901 Residence of Ludwig Habich, Darmstadt
1900-1901 The Ernst Ludwig House on Mathildenhöhe, Darmstadt
1901 Residence of Albert Hochstrasser, Kronberg im Taunus
1901 Exhibition building for two-dimensional art on Mathildenhöhe, Darmstadt
(not preserved)
1902 Princessinnenhaus [Princess's House] in the park of the Wolfsgarten
Hunting Lodge
1902 Residence of Carl Kuntze, Berlin-Steglitz
1903 Façade of the house of Edmund Olbrich, Troppau
Oberhessisches Haus [Upper Hessian House], Darmstadt (altered)
1907 Residence of Hugo Kruska (1st part), Cologne
1907-1908 Wedding Tower on Mathildenhöhe, Darmstadt
1907-1909 Department store of Leonhard Tietz AG (today Kaufhof), Düsseldorf
(interior significantly altered)
1908 Opel Workers' House (sample) on Mathildenhöhe, Darmstadt
(not preserved)
1908 Villa for Joseph Feinhals, Cologne-Marienburg (destroyed by war)
1908 Residence of Walther Banzhaf, Cologne
1907 Residence of Hugo Kruska (2nd part), Cologne
1908 Department store of Theodor Althoff AG, Gladbeck
1908 Wohnhaus für Max Clarenbach, Düsseldorf-Wittlaer (significantly altered)

OLBRICH'S LIFE
Joseph Maria Olbrich (* 22 December 1867 in Troppau [today's Opava, Czech Republic]; – 8 August 1908 in Düsseldorf)

Parents
Olbrich was born as the third child of Edmund and Aloisia Olbrich. He had two sisters who had died prior to his birth, as well as the younger brothers Johann and Edmund. His father was a wealthy pastry chef and wax producer as well as the owner of a brick producing operation, a fact which awakened Olbrich's interest in the construction business early on.

Education
Olbrich attended secondary school in Troppau before dropping out to work as a draughtsman for a local builder. In 1882, he went to Vienna in order to enter the architecture class at the Staatsgewerbeschule (State Trade School) in Vienna. Among his teachers were Julius Deininger (father of the Otto Wagner student WunibaldDeininger) and Camillo Sitte. In 1886, Olbrich passed his final examinations with the grade of "outstanding." Thereafter he returned briefly to Troppau, where he worked as a draughtsman for a construction firm. In 1890 he began studying at the Academy of Fine Arts in Vienna as a student of Karl Freiherr von Hasenauer, and his designs won many awards such as the Pein-Preis [Pein Award], the Hofpreis 1. Klasse [Court Award First Class] and the Rome Prize of the Academy. In 1893, he began working for the studio of Otto Wagner. Most of the detailed drawings for the buildings of the "Stadtbahn" urban rail system in V ienna [now part of the city's underground network] were probably by Olbrich, but this has not been proven conclusively. Wagner held him in very high esteem; he even considered encouraging the marriage of his daughter to Olbrich.

The Secession building
In 1896, the dissatisfaction of a group of artists led by Gustav Klimt resulted in the creation of the Vienna Secession as a splinter group of the organization behind the Vienna Künstlerhaus. This group's need for its own exhibition building led to Olbrich's first large assignment: the construction of the Secession building, which was carried out in 1897. After this, he also built several residential structures in Vienna and its environs, including the house for Hermann Bahr.

Germany
Ernest Louis, Grand Duke of Hesse and by Rhine (Hessen-Darmstadt) was a frequent visitor to Vienna and took a keen interest in modern art. It was at his instigation that, in 1899, an artists' colony was founded in Darmstadt on the rise known as Mathildenhöhe. It was with this project in mind that Ernest Louis called Olbrich to Darmstadt, and the architect soon became the unofficial leader of the Darmstadt Artists' Colony and also drew the highest salary. On 4 April 1900, the grand duke bestowed on him the title of professor, and he also became a Hessian citizen. Olbrich was the only architect in the artists' group at the time, for Peter Behrens originally worked only as a painter and
graphic designer. Olbrich got along less well with the publisher Alexander Koch, who mentioned him only infrequently in his magazines Innendekoration [Interior Decorating] and Deutsche Kunst und Dekoration [German Art and Decorating]. Olbrich married Claire Morawe, the divorced wife of author Christian Ferdinand Morawe, in Wiesbaden in 1903.
The artists' colony was to become a field of experimentation for Olbrich, where he also put up the main building – the Ernst-Ludwig-Haus. Around this structure there arose various residential buildings and provisional structures for the exhibitions. Furthermore, he designed ceramic tableware for the artists' colony which was then produced by the company Waechtersbacher Keramik, furniture for Darmstadt-based furniture companies, and musical instruments such as the Mand-Olbrich Piano. He remained loyal to the colony longer than many other members. His contributions to the Louisiana
Exhibition in St. Louis made such a great impression there, that he – probably at the instigation of Frank Lloyd Wright – became a corresponding member of the American Institute of Architects. In 1906 he received his final and largest commission: the department store of Leonhard Tietz AG (later Kaufhof AG) in Düsseldorf. The Rhineland seemed to him an advantageous area in which to continue his work, since it seemed easier for him to attract large, monumental projects there than in Darmstadt, where the artists' colony had only few patrons apart from the grand duke.
Shortly following the birth of his daughter Marianne on 19 July 1908, Olbrich died of leukemia – at the young age of 40 – in Düsseldorf on 8 August. Four days later, he was buried in Darmstadt at the "Alter Friedhof" cemetery.
In 1924, the street Olbrichgasse in Vienna's Meidling district was named after him, and in 1960 there followed the Joseph-Maria-Olbrich-Straße in Düsseldorf-Garath.