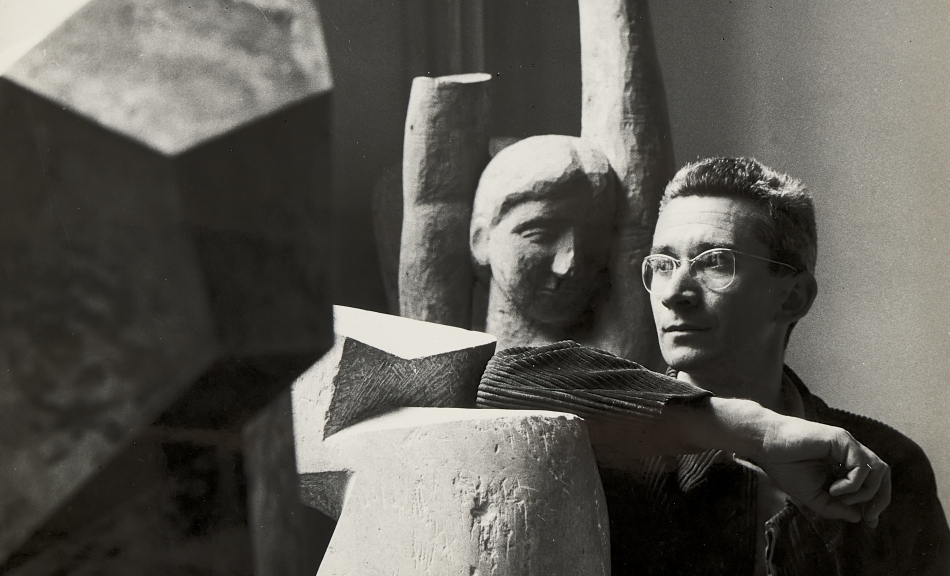 Marking the tenth anniversary of the artist's death in 2020 as well as his 100th birthday in 2021, the Leopold Museum is dedicating a comprehensive retrospective to Josef Pillhofer (1921–2010), one of the most eminent sculptors and draftsmen in Austria.
Pillhofer's active period covered more than half a century, starting with his time at the Graz School of Fine Arts, where he spent formative years in the class of Fritz Wotruba between 1946 and 1950. Another artist who shaped his oeuvre was the then head of the Academy, the painter Herbert Boeckl, who espoused geometrical and stereometrical design principles in keeping with Paul Cézanne.
In 1950 Pillhofer received a state scholarship and moved to Paris, where he studied under Ossip Zadkine at the Académie de la Grande Chaumière and was able to work in his professor's studio. His exploration of exponents of Cubist sculpture – along with Zadkine primarily Jacques Lipchitz, Alexander Archipenko and Henri Laurens – did not fail to impact on his form language. During his time in Paris, he made the acquaintance of further important sculptors of the French metropolis, including Constantin Brâncuși, Germaine Richier and Alberto Giacometti.
In 1994 Pillhofer recalled the importance of his Paris period: "To me, the human relatedness with its natural appearance in the medium of sculpture doesn't, and never did, contradict a convincing, contemporary objective. This is still true in the second half of the 20th century, albeit with an open perception and taking into account the experiences of Modernism." In this quote, Pillhofer referred to the "Classicism of Modernism" in the sculptures of the likes of Aristide Maillol, Henri Matisse and Wilhelm Lehmbruck – all of whom he held in great esteem. To Pillhofer, exploring these different artistic languages provided "the basis and point of departure for everything else" following his return to Vienna. Owing to his affinity for nature, Pillhofer based his figural depictions on realistic features. This stands in contrast to non-representational objects, striving towards abstraction and made up of vaguely geometric forms, which also occupy an important place in his oeuvre. The aspect of reduction and the exploration of spatiality, tectonics, rhythm and proportions play a major part in both groups of works. In his sculptural oeuvre, the artist – who according to Wilfried Skreiner was the first non-representational sculptor in Austria as well as one who oriented himself on international art more than most – always strove towards a formal clarity that would allow for simple structures to be conveyed from complex phenomena with the utmost sensitivity through the fragmentation of visible reality.