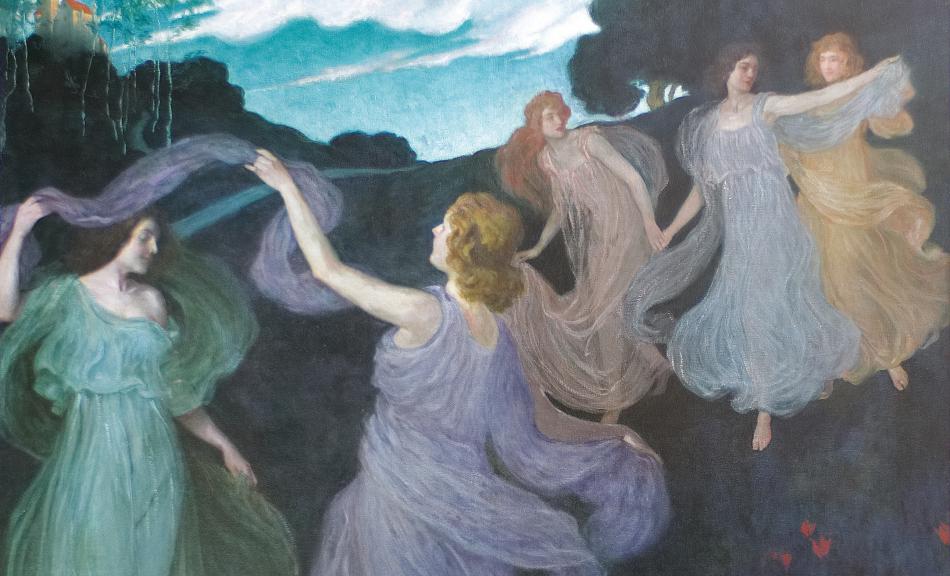 Beethoven's Symphony No. 6, known as the Pastoral Symphony, inspired the Viennese Jugendstil artist and Klimt colleague Josef Maria Auchentaller (1865-1949) to create an imposing pictorial program in 1889/99 to adorn the music room at the villa of his father-in-law, the silver jewelry manufacturer Georg Adam Scheid.
The ensemble, consisting of five paintings, represents the first artistic realization of all movements of a Beethoven symphony and is a singular example of the tradition of music rooms, which experienced its heyday around 1900. Marking the 250th birthday of Ludwig van Beethoven, the ensemble will be reconstructed for the first time in Austria at the Leopold Museum, where the history of this Gesamtkunstwerk, or universal work of art, will be highlighted through a focus exhibition in the context of the new permanent presentation Vienna 1900.
The Vienna-born painter, graphic artist and jewelry designer Auchentaller's exploration of a work by Beethoven illustrates the high esteem in which the composer was held by artists of the Vienna Secession, which Auchentaller joined already in its founding year. Auchentaller also executed the now lost mural Joy, Fair Spark of the Gods, created as a counterpart to Gustav Klimt's Beethoven Frieze, for the famous 14th Exhibition of the Vienna Secession held in 1902 and dedicated to the composer, who had chosen Vienna as his adopted home.
In this focus exhibition, the reconstruction of this unique pictorial program for the music room of Villa Scheid enters into a multi-faceted dialogue with works by Gustav Klimt, Max Klinger, Carl Moll, Alfred Roller and others, and shows how Beethoven became a source of inspiration and point of reference for exponents of Viennese Modernism fighting for renewal and recognition in fin-de-siècle visual arts.