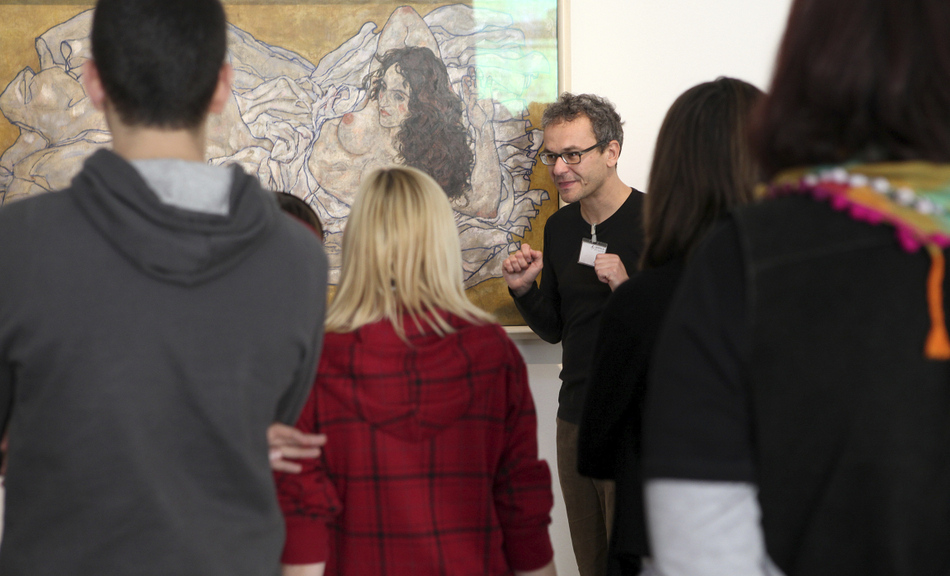 Group visits
The Leopold Museum is spacious enough and offers the perfect service for a pleasant and trouble-free visit to the museum with small and also bigger groups.
You can book one of our experienced art experts for a guided tour whereby you decide on the length, the content and the focus. For further information on our guided tours, please click here.
We have arranged some special packages for you, e.g. visit to the museum and culinary pleasures. For further details, click here.
Our own guides use a convenient and complimentary earphone system that guarantees perfect audibility throughout your tour. We can also place this system at the disposal of external tour guides.
There is a special group access (fast lane) at the cash desk which prevents long latency time and congestion in the entrance area.
With our convenient group ticket every member of the group gets his own ticket – but without long latency time at the cash desk.
We highly recommand to announce group visits in advance. Please contact Ms. Helena Hartlauer for that.
Nevertheless you can also spontaneously visit the Leopold Museum with a group! But in this case we kindly ask you to understand that there may be some latency time or that the earphone system might not be available instantly.
Every official tourist guide of Vienna can guide a group through the Leopold Museum. No accreditation is required. Please show your ID-card at the cash desk – you can visit the museum free of charge (also without a group!). If you wish, we can provide you with some information leaflets for the preparation of the guided tour. Please contact Ms. Helena Hartlauer for that.