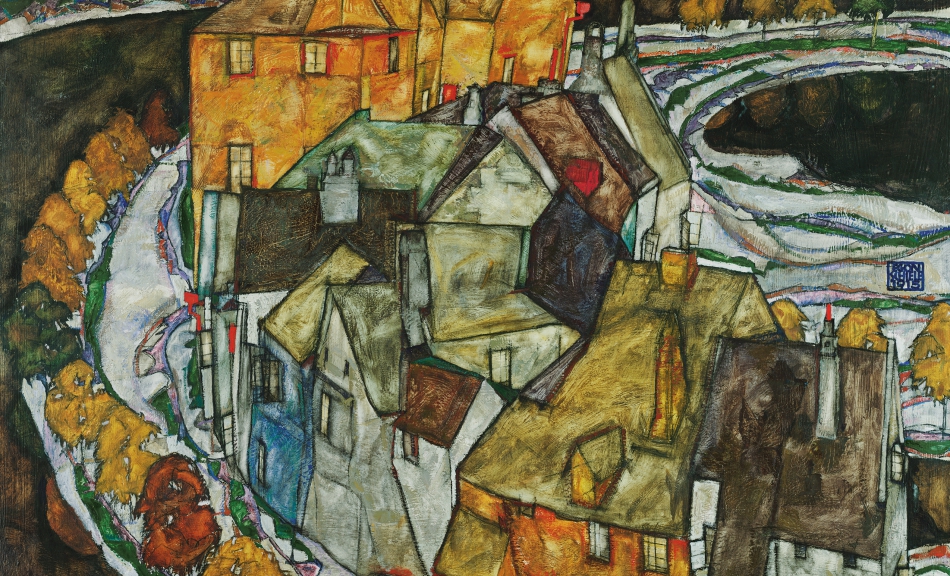 Egon Schiele, Crescent of Houses II (Island Town)
Being the son of a stationmaster, Egon Schiele was entitled to free train travel within the Habsburg Empire, and he took advantage of this privilege especially in order to make repeated visits to Krumau (today's Český Krumlov), the hometown of his mother. In 1911, he actually decided to relocate there—where he then proceeded to create a series of cityscapes as well as numerous nude portraits, for which he selected ever-younger models. When the latter of these two pursuits became known, the locals took great offense—whereupon Schiele, together with Wally Neuzil, with whom he was "living in sin", moved to the Lower Austrian town of Neulengbach, where similar activities would soon result in his being taken into investigative custody.

In early 1915, Schiele once again painted several Krumau motifs. This was the period during which he ended his intimate relationship with Wally and began courting Edith Harms, whom he would marry on July 17th of that year. The row of houses depicted here, of which there also exists a version drawn in pencil, is entirely removed from its actual surroundings; this fact lends it a dynamic quality that is expressed even more clearly in the row of trees with which it is lined, which central part seems to be drawn towards the left as if by some centrifugal force. The orange seen in the houses occurs fairly often in Schiele's works from this period, for example in the laundry hung out to dry in House Wall on the River, likewise a Krumau motif and one of the artist's masterpieces.