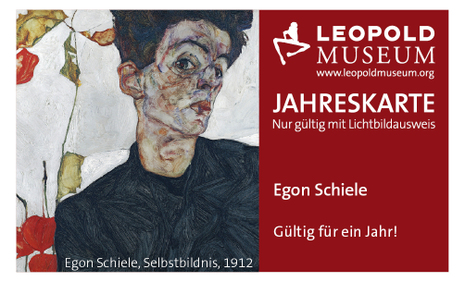 Annual Pass
EUR 55,00/reduced fee* EUR 35,00

*Students, Pensioners, Unemployed Persons, Disabled Persons, War-Disabled Persons, Members of the Austrian Association of Art Historians, Members of the Austrian Association of Art Educators, Employees of our Main Sponsors
Visit the Leopold Museum
as often as you want – for one entire year!
Furthermore you are invited to all special events at the Leopold Museum.

How do you get your annual pass?

All you have to do is buy your annual pass at the cash desk of the Leopold Museum. You will be issued with the annual pass straightaway. If you wish, you can also order the annual pass by email. It will then be sent to you by mail.
The annual pass of the Leopold Museum is the ideal gift for everyone interested in art!
Just request the annual pass for your friends and family at our cash desk.

The annual pass is personalized and non-transferable.
The provided data is only used for internal statistics and for mailing information brochures.
For any further information please contact us at office@leopoldmuseum.org or by phone +43.1.52570-1522.